Memorial Day
It is not the day that commemorates the beginning of summer fun.
It is a solemn day set aside each year to remember with humble gratitude and pride those hometown heroes who have served in uniform, many of whom paid the ultimate price for our country's freedom.
What began as a community project to help everyone grasp the concept of the number of lives lost on September 11, 2001 has become a national movement.
The first such "Healing Field" was the idea of Colonial Flag Company, which donated 3,031 flags—one for each life lost on 9/11—for display in a park in Utah. To everybody's amazement, 250,000 people came out to experience the serenity of walking through the flags that were flying as a living memorial.
Since then, Rotary clubs across the nation have staged their own Fields of Honor to acknowledge those who, to use Rotary's own motto, have demonstrated "Service Above Self."
The first Burlington County Field of Honor was held in 2019 with incredible exposure to the media and the public, and large groups of local people visited the field every day.
Today's Burlington County Field of Honor®
On Friday, May 26, 2023, Rotarians and community volunteers will erect over 325 full-size American flags on 7 1/2 foot flag poles in Medford's Freedom Park—in perfectly symmetrical rows.
Medallions will be placed on flags with details of the nominated "heroes." The Field of Honor® will remain for a full week, from May 26 through June 4, 2023.
Medford Sunrise Rotary organizes the Burlington County Field of Honor® each year to honor those who served—and currently serve—their community and our country.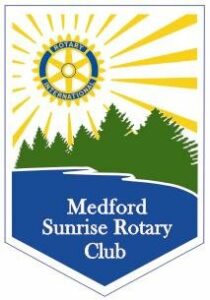 Starting the Friday before Memorial Day, volunteers from around the community arrive at Medford's Freedom Park to help Rotarians place hundreds of full-size American flags.
Each flag has a commemorative medallion—a collector's item with a new design each year—attached, which has the story of one of those hometown heroes. Most medallions are sponsored by friends and family members; some are placed by event sponsors whose contributions make this wonderful occasion possible.
Sponsorships should be received no later than Friday, May 12th, but supporters can continue to sponsor flags during the event, but those honorees may not be included on the main field directory.
Medford Sunrise Rotary recognizes with their own medallions citizens from Burlington County who were killed in action in conflicts dating back to World War I.
The Field of Honor is open day and night from Friday evening of Memorial Day weekend through Friday after the holiday.
Proceeds are distributed by Medford Sunrise Rotary to veterans' charities and a tithe is given to the Rotary Peace Centers to help train future leaders in peace and conflict resolution. Previous beneficiaries have been: